the Southern Exposure digital archive! a podcast! things I wrote!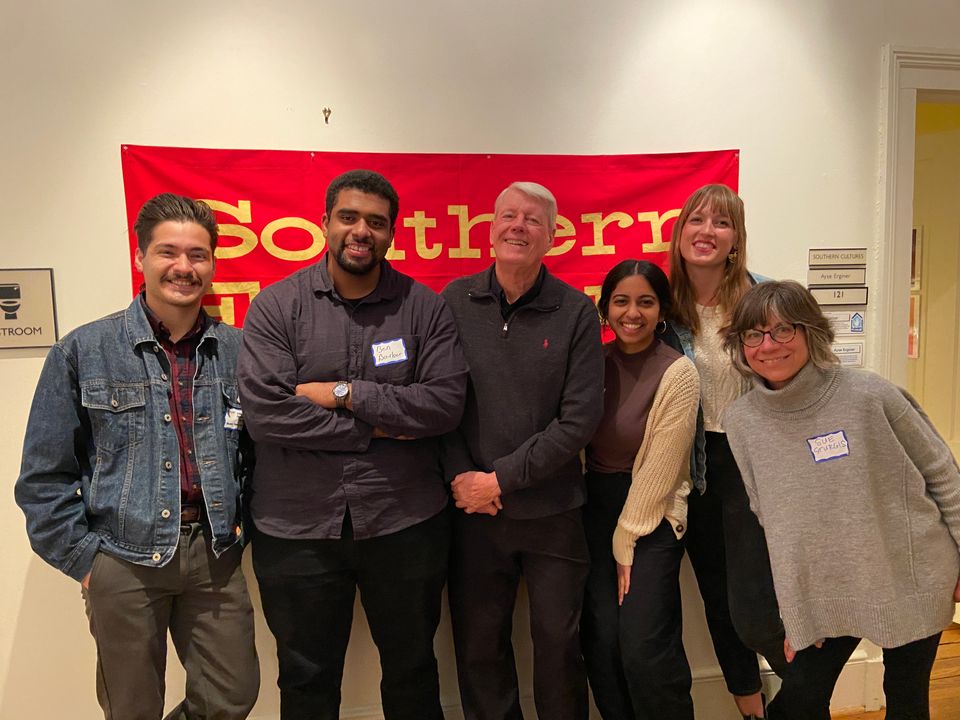 Well hello! It's been a long time since I've sent out an update through this newsletter—turns out grad school is really busy. Who knew!
The occasion for this newsletter is to announce that a project I've been working on for nearly two years—the Southern Exposure digital archive—is finally online. Many of you will be familiar with the magazine from your own research or from my Twitter feed, but I'll excerpt a bit from my introduction to the archive, which I wrote following the Southern Exposure at 50 symposium at UNC-Chapel Hill that I had the privilege of co-organizing.
The Southern Exposure archive, which will be released in four installments throughout the year, contains a wealth of information that will be useful to researchers, writers, historians, journalists, and organizers seeking to answer questions of what came before and to understand what lies before us. The journal's writers and editors were audacious — taking big swings at the powerful, publishing the groundbreaking work of grassroots researchers and organizers, looking to history for lessons for their time. They asked cultural, political, racial, gender, and class questions of the region's past and its present — always in service of a better future. These archives provide not just material for historicizing movement-oriented work, journalism and research in the 20th century, but also possibilities for imagining how we might engage in the struggles of our 21st century moment.
Southern Exposure was known for corporate investigations that shed light on the history and exploitative practices of companies like J.P. Stevens during the campaign to unionize the textile giant in the 1970s and '80s, and poultry producer Perdue Farms in the 1980s and '90s. It was also a pioneer of Southern oral history: The magazine's third issue, No More Moanin', featured interviews with the organizers of the Southern Tenant Farmers Union in the Arkansas Delta and organizers of the UAW sitdown strike in Atlanta in the 1930s, while Florence Reece, wife of a Harlan County, Kentucky, coal miner and the composer of the classic labor song "Which Side Are You On," interviewed a veteran of the East Tennessee coal mining battles of the 1930s who had composed "Little David Blues." Stayed on Freedom, a 1981 issue, featured oral histories with civil rights leaders including Rosa Parks, Ella Baker, John Lewis, Fannie Lou Hamer, Marion Barry, and James Orange.
Southern Exposure's body of work speaks to the questions of our time not just in method, but in content. Issues like Just Schools, published on the 25th anniversary of the U.S. Supreme Court's Brown v. Board of Education decision outlawing segregated schools, asked hard questions about racial equality in the school system, and of public education's curriculum, resources, and role in civic life — questions that are still being debated today. The 1981 Festival issue celebrated Southern literature in its many forms and included an essay from longtime feminist and anti-racist organizer Mab Segrest on lesbian writing in the South and others on Cherokee, Hispanic, and Black literature. Working Women was a handbook of resources meant to help Southern women navigate and organize their workplaces. Issues on the military-industrial complex highlighted the South's role in manufacturing nuclear weapons and other elements of the war industry, calling attention to its specific harms and profiteers. In The Future is Now, Southern Exposure writers called attention to what would later be understood as questions of environmental justice — toxic waste and other environmental disaster concentrated near communities marginalized by race and class.
For me — and I hope for you, the organizers, researchers, and students who are reading this — spending time in the Southern Exposure archive has helped me understand my work as part of a long tradition. This is a powerful thing, to understand ourselves as part of a generation-spanning community invested in justice, struggle, and change — a community of people who love this region and its people deeply and want it to be better, to be just, for its people to be free. Seeing the ways that past generations experimented with new ways of writing, of research, interviewing, collective action, and popular education can give us permission and inspiration to be audacious as we work together against the many crises of our time.
You can read the whole introduction here, and visit the digital archive here. If you want a PDF of an issue you don't see up on the website yet, let me know and I'd love to send it to you.
---
Another project I've been working on this year is reviving the Southern Labor Studies Association's podcast Working History, which spotlights the work of leading labor historians, activists, and practitioners focusing especially on the U.S. and global Souths. My cohost Dave Anderson and I have two episodes out, one with journalist Victoria Bouloubasis and another with historian Jefferson Cowie, and more coming. Subscribe on Apple Podcasts or Spotify or wherever you get your podcasts!
---
A quick roundup of some things I've written over the last year:
Last spring, this piece I wrote for Dwell about the attempted Austinization of the Ozarks went locally viral and prompted a very funny response column in the Arkansas Democrat-Gazette, which includes this line: "Here's what such writers [me] fail to consider: Perhaps the Walton family's motives are pure." Damn! So true. How could I have missed that??
For the American Prospect's August issue, I went deeper (roughly 6,000 words deep) into northwest Arkansas, especially Springdale and Bentonville, as company towns. How do the Tysons and the Waltons' outsized sway over local politics, nonprofit funding, philanthrophy, etc. impact local governance, democratic ideals, and who this place is being constructed for? A lot of research and thought went into this piece, and I think it got kind of overshadowed in the summer slog, but I am proud of it and hope you'll read it.
Until next time!
Olivia