Year in Review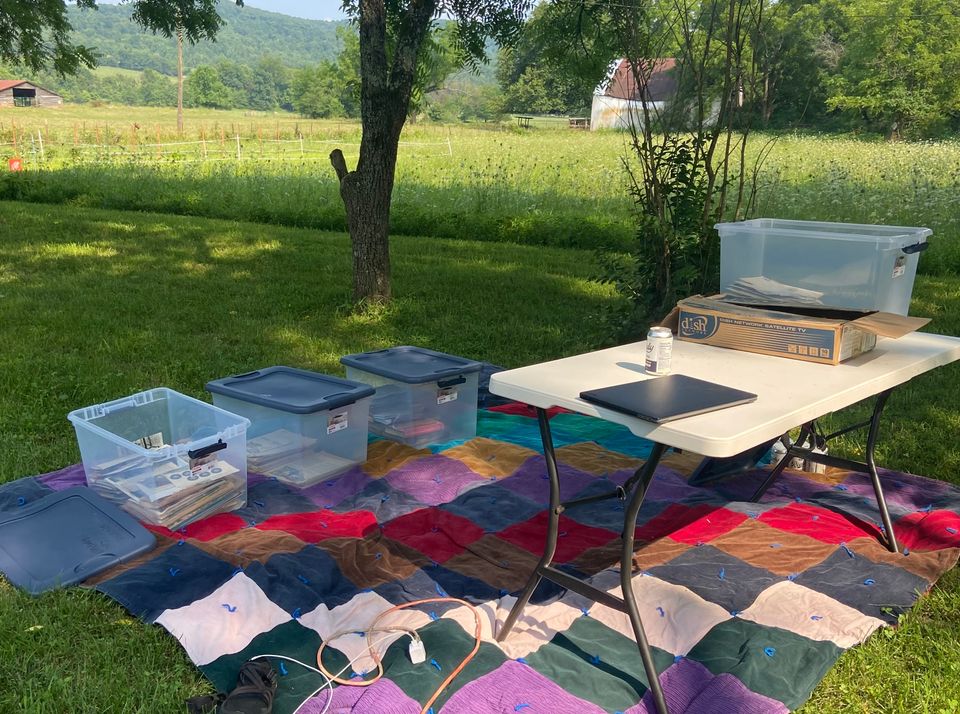 In 2021, I left a full-time journalism job for graduate school and freelancing. I also picked up and moved again, this time from Fayetteville, Arkansas to Charlottesville, Virginia, trading one mountain town for another.
I don't have many insightful things to say about this transition yet—I'm really glad to be learning alongside people again, and to have time and space to think through big ideas and niche subfields. I'm also glad to have had a consistent stream of opportunities to freelance. Mostly, in a time rife with uncertainty over public health, climate change, and the job market, I'm grateful to be able to make some semblance of a career out of the things I love to do: read, research, talk to people, write. Knowledge work is definitely work, but it's also a huge privilege to be trusted with people's stories now and from decades past. I'm constantly learning to treat them all with empathy, care, and wonder.
This year, I reported on the rural Black organizers who delivered Democrats the Senate, on the close ties between Tyson's PR efforts and the Springdale mayor, and on the lax oversight of Arkansas' school voucher program. I interviewed Magaly Licolli about organizing alongside poultry workers, talked to Marshallese youth and leaders about the legacy of United States nuclear testing in their atolls, and wrote about rural hospital closures in the South. I covered the ongoing work towards restorative justice in Elaine, Arkansas, and considered the poultry industry today in light of decades-old investigative journalism that uncovered similar problems in its early years. I wrote about the start of another COVID school year in Marion, Arkansas, and talked to the family of Roy Richards, the victim of a fatal police shooting in Little Rock.
I've published a few things since my last email, including an update on the House COVID Subcommittee's investigation into COVID-19 outbreaks in meatpacking companies. tl;dr: At least 59,000 workers at the nation's five largest meatpackers were infected with COVID-19 and at least 269 died during the first year of the pandemic, almost three times the number of infections and deaths known from previous estimates. This piece was the coda (for now) to my year+ investigation into the poultry industry's response to the pandemic. You can find the rest of the articles in that series here.
I also had an article this month over at Lapham's Quarterly titled The Coin Standard. I first encountered William Hope Harvey, the subject of this essay, as the man who built Monte Ne, an early twentieth century resort town in the Ozarks. But others (especially historians) will know him as the author of Coin's Financial School, the nineteenth century pamphlet on free silver. His life offers a look into the curiously intense turn-of-the-century debates over where currency should derive its value from. If you've ever been curious about free silver, fiat money, or Populism, you'll want to give it a read (and keep an eye out for the bonus William Jennings Bryan appearance midway through). A huge thanks goes to the folks at the Rogers Historical Museum for sending me what digitized archives they have on Harvey, which let me go a bit deeper on his personal life (spoiler: he kinda sucked) than I've seen in other biographies.  
Since August, I've been working with the Institute for Southern Studies to digitize articles from Southern Exposure, a journal published from the 1970s to the early 2000s. Over the last few months we've made several feature stories, investigations, and oral histories from various issues of the magazine available online. These make for good holiday reads if you're curled up on the couch for yet another pandemic holiday season, trying to distract yourself from what sometimes feels like imminent catastrophe around every corner. This work will continue into next year, so keep an eye out.
I started the year writing about the poultry industry's present, and I'm ending the year researching its past as part of my graduate work towards my master's essay and (fingers crossed) my eventual dissertation. I have a request for newsletter readers with Arkansas connections:
Do you have any friends or family members who were involved in the poultry industry in the Ozarks at any point from approximately the 1960s to the 2000s? I'm collecting oral histories from as many people as I can in the coming weeks and months, and I'm interested in talking to farmers/growers, executives, processors, factory workers, feed mill workers, hatchery workers, inspectors—anyone with any connection to the industry. Hit reply on this email or reach out to me at olivia.paschal13@gmail.com for more info.
A reminder for editors: I'm always open to commissions. You can find links to my previous work here and reach me at the above email address. For readers: I want to know what stories you want to see told more often and what weird niche historical things you want to know more about. Be in touch!
Stay safe and well this holiday season, and stock up on those rapid tests when you can. I'll see you all in 2022.
Olivia